Welcome to KPC Toronto
We warmly welcome you to Kerala Pentecostal Church, Toronto (KPC Toronto). Our prayer is that the Lord will bless you as we share with you the good things He is doing among us.
At KPC Toronto, we believe that God has a destiny for every person: a great and wonderful purpose for you to fulfill in your life. It begins with getting to know God through His Son, our Lord Jesus Christ. Once your life is safely in His hands, you can discover that purpose and begin to bring it to fulfillment through His strength and power. In our increasing humanistic society, most people have lost a sense of destiny. You were created by God; you didn't evolve. You were created with a plan. Fulfilling your destiny begins with knowing God's plan for your life. God has a purpose for your life. He has a destiny for you to fulfill, but Satan wants to steal and destroy that plan.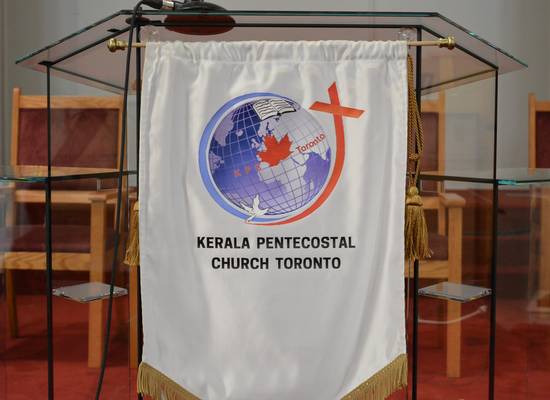 Recent Sermons
Experience God's Presence

Let My People Go
John 6:1-14 - After this Jesus went away to the other side of the Sea of Galilee, which is the Sea of Tiberias. And a large crowd was following him, because they saw the signs that he was doing on the sick. Jesus went up on the mountain, and there he sat down with his disciples. Now the Passover, the feast of the Jews, was at hand. Lifting up his eyes, then, and seeing that a large crowd was coming toward him, Jesus said to Philip, "Where are we to buy bread, so that these people may eat?" He said this to test him, for he himself knew what he would do. Philip answered him, "Two hundred denarii worth of bread would not be enough for each of them to get a little." One of his disciples, Andrew, Simon Peter's brother, said to him, "There is a boy here who has five barley loaves and two fish, but what are they for so many?" Jesus said, "Have the people sit down." Now there was much grass in the place. So the men sat down, about five thousand in number. Jesus then took the loaves, and when he had given thanks, he distributed them to those who were seated. So also the fish, as much as they wanted. And when they had eaten their...
"Apply yourself wholly to the Scriptures, and apply the Scriptures wholly to yourself."
Quote by Johann A. Bengel


Meetings this week
Join us for the following meetings

Prayer Line
November 4, 2022 7:30 PM - November 4, 2022 9:00 PM

Zoom Meeting

Toronto, Ontario, Canada


Upcoming Major Event
Join us for the following event
Sunday Worship
November 6, 2022 11:00 AM - November 6, 2022 1:00 PM

Hope Seventh Day Adventist Church

280 Culford Rd, Toronto, Ontario, Canada, M6L 2V3