Welcome to KPC Toronto
We warmly welcome you to Kerala Pentecostal Church, Toronto (KPC Toronto). Our prayer is that the Lord will bless you as we share with you the good things He is doing among us.
At KPC Toronto, we believe that God has a destiny for every person: a great and wonderful purpose for you to fulfill in your life. It begins with getting to know God through His Son, our Lord Jesus Christ. Once your life is safely in His hands, you can discover that purpose and begin to bring it to fulfillment through His strength and power. In our increasing humanistic society, most people have lost a sense of destiny. You were created by God; you didn't evolve. You were created with a plan. Fulfilling your destiny begins with knowing God's plan for your life. God has a purpose for your life. He has a destiny for you to fulfill, but Satan wants to steal and destroy that plan.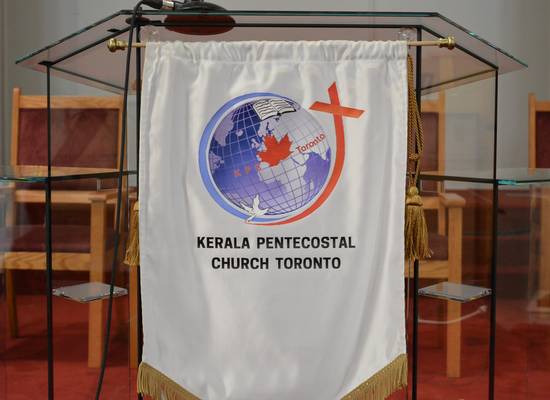 Recent Sermons
Experience God's Presence

Fixing Our Eyes On Jesus
Hebrews 12:1-2 - Therefore, since we are surrounded by such a great cloud of witnesses, let us throw off everything that hinders and the sin that so easily entangles. And let us run with perseverance the race marked out for us, fixing our eyes on Jesus, the pioneer and perfecter of faith. For the joy set before him he endured the cross, scorning its shame, and sat down at the right hand of the throne of God.

Living Sacrifice
Romans 12:1-2 - Therefore, I urge you, brothers and sisters, in view of God's mercy, to offer your bodies as a living sacrifice, holy and pleasing to God, this is your true and proper worship. Do not conform to the pattern of this world, but be transformed by the renewing of your mind. Then you will be able to test and approve what God's will is his good, pleasing and perfect will.

Grateful Heart
Psalms 103:1-2 - Praise the Lord, my soul; all my inmost being, praise his holy name. Praise the Lord, my soul, and forget not all his benefits.
"Apply yourself wholly to the Scriptures, and apply the Scriptures wholly to yourself."
Quote by Johann A. Bengel


Meetings this week
Join us for the following meetings

Prayer Line
November 26, 2020 7:45 PM - November 26, 2020 9:00 PM

Anywhere at your convenience

Toronto, Ontario, Canada


Upcoming Major Event
Join us for the following event
Musical Night
December 24, 2020 5:00 PM - December 24, 2020 9:30 PM

Kerala Pentecostal Church

#63 - 750 Oakdale Road, Toronto, Ontario, Canada, M3N 2Z4