Welcome to KPC Toronto
We warmly welcome you to Kerala Pentecostal Church, Toronto (KPC Toronto). Our prayer is that the Lord will bless you as we share with you the good things He is doing among us.
At KPC Toronto, we believe that God has a destiny for every person: a great and wonderful purpose for you to fulfill in your life. It begins with getting to know God through His Son, our Lord Jesus Christ. Once your life is safely in His hands, you can discover that purpose and begin to bring it to fulfillment through His strength and power. In our increasing humanistic society, most people have lost a sense of destiny. You were created by God; you didn't evolve. You were created with a plan. Fulfilling your destiny begins with knowing God's plan for your life. God has a purpose for your life. He has a destiny for you to fulfill, but Satan wants to steal and destroy that plan.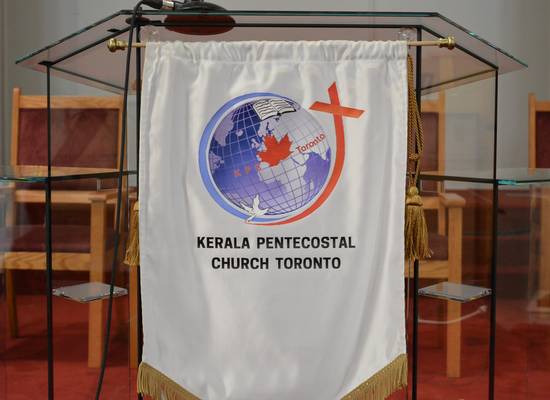 Recent Sermons
Experience God's Presence

The Small Things That Can Change Our Situations
Colossians 3:23-24 - Whatever you do, work at it with all your heart, as working for the Lord, not for human masters, since you know that you will receive an inheritance from the Lord as a reward. It is the Lord Christ you are serving.

Our Hope In The Second Coming of Christ
Hebrews 10:35-37 - "So do not throw away your confidence; it will be richly rewarded. You need to persevere so that when you have done the will of God, you will receive what he has promised. In just a little while, he who is coming will come and will not delay."

The Discipline Of Submission
1 Peter 2:18 - Slaves, in reverent fear of God submit yourselves to your masters, not only to those who are good and considerate, but also to those who are harsh.
"Apply yourself wholly to the Scriptures, and apply the Scriptures wholly to yourself."
Quote by Johann A. Bengel


Meetings this week
Join us for the following meetings

Prayer Line
March 30, 2020 7:00 PM - March 30, 2020 8:00 PM

Anywhere at your convenience

Toronto, Ontario, Canada


Upcoming Major Event
Join us for the following event
Church Retreat
August 14, 2020 9:00 AM - August 16, 2020 6:00 PM

Upper Canada Christian Retreat Center

1713 Concession Rd, Adjala-Tosorontio, Ontario, Canada, L0N 1P0