Welcome to KPC Toronto
We warmly welcome you to Kerala Pentecostal Church, Toronto (KPC Toronto). Our prayer is that the Lord will bless you as we share with you the good things He is doing among us.
At KPC Toronto, we believe that God has a destiny for every person: a great and wonderful purpose for you to fulfill in your life. It begins with getting to know God through His Son, our Lord Jesus Christ. Once your life is safely in His hands, you can discover that purpose and begin to bring it to fulfillment through His strength and power. In our increasing humanistic society, most people have lost a sense of destiny. You were created by God; you didn't evolve. You were created with a plan. Fulfilling your destiny begins with knowing God's plan for your life. God has a purpose for your life. He has a destiny for you to fulfill, but Satan wants to steal and destroy that plan.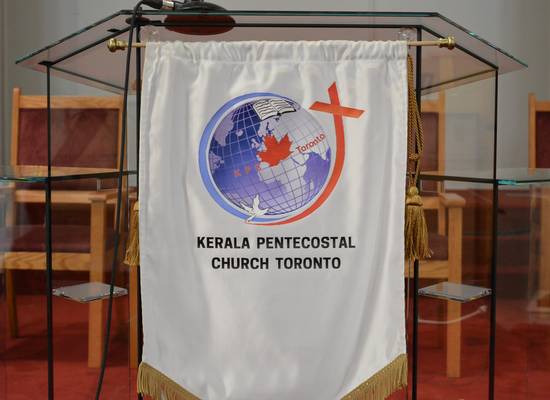 Recent Sermons
Experience God's Presence

Learn From Tabitha
Acts 9:36-42 - In Joppa there was a disciple named Tabitha (in Greek her name is Dorcas); she was always doing good and helping the poor. About that time she became sick and died, and her body was washed and placed in an upstairs room. Lydda was near Joppa; so when the disciples heard that Peter was in Lydda, they sent two men to him and urged him, "Please come at once!" Peter went with them, and when he arrived he was taken upstairs to the room. All the widows stood around him, crying and showing him the robes and other clothing that Dorcas had made while she was still with them. Peter sent them all out of the room; then he got down on his knees and prayed. Turning toward the dead woman, he said, "Tabitha, get up." She opened her eyes, and seeing Peter she sat up. He took her by the hand and helped her to her feet. Then he called for the believers, especially the widows, and presented her to them alive. This became known all over Joppa, and many people believed in the Lord.
"Apply yourself wholly to the Scriptures, and apply the Scriptures wholly to yourself."
Quote by Johann A. Bengel


Meetings this week
Join us for the following meetings

Prayer Meeting
September 22, 2023 7:30 PM - September 22, 2023 9:00 PM

Zoom Meeting

Toronto, Ontario, Canada


Upcoming Major Event
Join us for the following event
Sunday Worship
September 24, 2023 11:00 AM - September 24, 2023 1:00 PM

Hope Seventh Day Adventist Church

280 Culford Rd, Toronto, Ontario, Canada, M6L 2V3