Welcome to KPC Toronto
We warmly welcome you to Kerala Pentecostal Church, Toronto (KPC Toronto). Our prayer is that the Lord will bless you as we share with you the good things He is doing among us.
At KPC Toronto, we believe that God has a destiny for every person: a great and wonderful purpose for you to fulfill in your life. It begins with getting to know God through His Son, our Lord Jesus Christ. Once your life is safely in His hands, you can discover that purpose and begin to bring it to fulfillment through His strength and power. In our increasing humanistic society, most people have lost a sense of destiny. You were created by God; you didn't evolve. You were created with a plan. Fulfilling your destiny begins with knowing God's plan for your life. God has a purpose for your life. He has a destiny for you to fulfill, but Satan wants to steal and destroy that plan.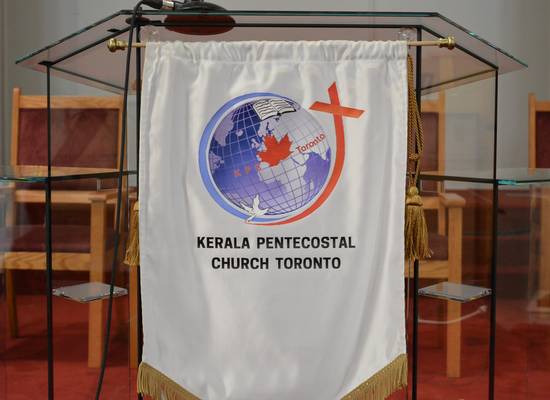 Recent Sermons
Experience God's Presence

The Battle Of Faith
Jude 1:20-21 - But you, dear friends, by building yourselves up in your most holy faith and praying in the Holy Spirit, keep yourselves in God's love as you wait for the mercy of our Lord Jesus Christ to bring you to eternal life.

The Uncertain Times
Matthew 6:34 - Therefore do not worry about tomorrow, for tomorrow will worry about itself. Each day has enough trouble of its own.

Why Do We Rejoice In The Lord Always?
Philippians 4:4-6 - Rejoice in the Lord always. I will say it again, Rejoice! Let your gentleness be evident to all. The Lord is near. Do not be anxious about anything, but in every situation, by prayer and petition, with thanksgiving, present your requests to God.
"Apply yourself wholly to the Scriptures, and apply the Scriptures wholly to yourself."
Quote by Johann A. Bengel


Meetings this week
Join us for the following meetings

Prayer Line
June 1, 2020 8:00 PM - June 1, 2020 9:00 PM

Anywhere at your convenience

Toronto, Ontario, Canada


Upcoming Major Event
Join us for the following event
Musical Night
December 24, 2020 5:00 PM - December 24, 2020 9:30 PM

Kerala Pentecostal Church

#63 - 750 Oakdale Road, Toronto, Ontario, Canada, M3N 2Z4